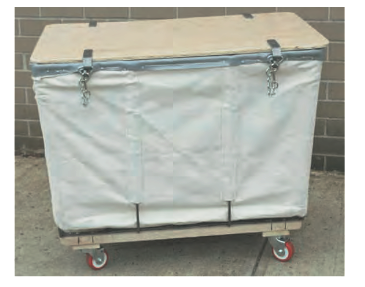 HAMPERS 10 BUSHEL W/TOP & 4" SWIVEL DARNELL CASTERS
HM402DC10
Bushel 10 L 36" W 24" D(inside) 25"
Canvas hamper with a sturdy plywood top hinged to the body and fitted with hoops for locking • Excellent for storing curtains or soft goods as well as transporting cable and rope) • Available with or without high quality Darnell casters. • Hampers stack for easy storage • We reinforce the hampers with 1'' x 4'' clear pine to support heavy loads before we install Darnell Swivel Casters. No other supplier offers this high quality caster as an improvement to the hamper. We also can do custom fabrication of hampers. Please contact a salesperson. • These hampers ship via common carrier. Allow for freight charges
THIS ITEM MUST BE SHIPPED VIA FREIGHT OR PICKED UP AT THE WAREHOUSE. 

WE WILL CONTACT YOU WITH THE FREIGHT COST FOR PAYMENT ON SHIPPING ONCE WE RECEIVE A FREIGHT QUOTE.